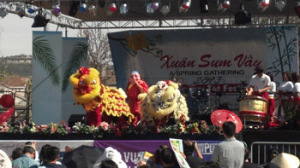 The 10th annual San Diego Tết Festival, presented by the Vietnamese-American Youth Alliance (VAYA), will return to the Mira Mesa Community Park in 2015. "Construction in Balboa Park was a big reason why we moved to Mira Mesa in 2013, but because of the outpouring of support from the community, we decided to stay and continue to host the festival here," said Andy Nguyen, President of VAYA.
Some of the new attractions planned for this year include a revamped Cultural Village that will incorporate some of the history of Vietnamese life in America since the Fall, the relaunch of the Golden Voice competition and an expanded entertainment program.
The festival, which attracts 20,000 people each year, promises fun for whole the family with such activities as carnival rides and games, authentic Vietnamese food, lion dancing and firecrackers.
The upcoming year, being the year of the goat, there will also a goat petting zoo for the kids to enjoy.
Festival Dates and Hours are: Friday, Feb. 20, 2015 from 5 p.m. to 10 p.m.; Saturday, Feb. 21, 2014 from 11 a.m. to 10 p.m.; and Sunday, Feb. 22, 2014 from 11 a.m. to 9 p.m. Admission is free.
For more information, visit the San Diego Tết Festival site at http://www.sdtet.com/